Building and Pest Inspections
When you choose All pest and termite eradication to carry out your Building and Pest Inspection, we send out a fully qualified building and pest inspector. Our Inspectors are fully trained, qualified, licensed and insured for Building, Pest, Termite and pool safety inspections and have been carrying out Building and Pest Inspections in the local areas for many years.
On completion of the inspection you will receive a Building Inspection Report and a Timber Pest Inspection Report, both are fully compliant with the Australian Standards, with photos outlining any significant findings, problem areas or areas of concern. The building and pest inspection reports will provide recommendations as to the problem areas found and the removal of termite conducive conditions, if any, and a free quote for termite protection, if required.
Areas Inspected
Our team cover all accessible areas including but not limited to:
Internal walls
External walls
Roof Void
Subfloor
Grounds
Gardens
Fence line
Outbuildings
Other timber elements
Tools
Timber Pest Inspection Tool – Termatrac T3i
Our Termite Inspection all pest and termite eradication Team use 'The World's Number 1 Termite Detector' – The Termatrac T3i. This tool allows our pest management technicians to investigate further than the Australian Standards requirement (AS3660.2-2000). We use a systematic approach to make sure every aspect of the Termite Inspection is covered.
Moisture Meters
Assisting the Termatrac T3i is a moisture meter. Termites are attracted to areas of high moisture. Termites, their mud trails and nests are high in moisture. The moisture meter allows us to find possible areas that are conducive to termites or find the termites themselves.
Thermal Imaging Cameras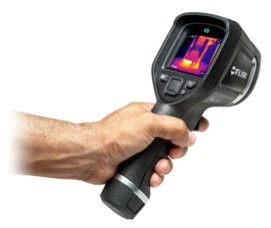 Operated to locate the termites and termite workings heat signature within a subfloor, wall or roof space.
Thermal Imaging Camera we use the latest in termite inspection technologies the Flir E-8 infrared camera. Thermal imaging cameras have a great resolution (up to 320 x 240 pixels) this is so you are getting more valuable temperature information to help locate and potential termite ingress to the structure.
The FLIR camera makes early detects minor temperature changes. The pest management technicians are fully trained to use of the FLIR e8 and to interpret this top of the range piece of equipment to ensure termite activity is picked up.
What if Active Termites are found during the Building and Pest Inspection?
If active termites are found during the timber pest inspection, we can provide a remedial termite treatment on the day. We also specialise in Termite Treatments and Termite Protection. The Timber Pest Inspection Report will provide FREE Quotes for this. This may include Termite Chemical Barriers or Termite Baiting and Monitoring Systems.
Our Licenses
QBCC Builder - Medium Rise License Number 1048753
QBCC Completed Residential Building Inspection License Number 1048753
Queensland Health Pest management Technician Licence PMT-O-12670
Book Now
Schedule a Building and Pest Inspection for your future Home Today! Organise a Building and pest Inspection with us by calling 1300 656 124 or book online.
Pest Control
Get rid of ants, spiders and cockroaches from your home.